The best Twitter name for your business is what your customers will remember. This is usually your business name, without underscores or locations added to the handle and definitely no numbers. What do your customers think of when they need your services? Unless you've got a memorable advertising slogan or strapline, this will usually be your company name. That is the best username for you.
But as with urls, now Twitter's been around for a while, many of the best names are taken. So it's okay to make do with an abbreviation right? Wrong. If someone is trying to talk to your business do you think they can be bothered to find the right company name, particularly if they're typing with one hand while doing something else with the other? No.
A lot of interactions with customers on Twitter are missed because they go to the wrong company. The company with your name! In the worst case scenario they may even be taking business from you. But don't despair. There is something you can do about it. In fact, we were in the exact same situation.
Is the impostor twitter account dormant?
If your desired Twitter handle is taken by someone else but the account is just sitting dormant, you may well be in luck. Look at the Twitter feed, if it has no activity you can claim it. We did.
How PlutoLondon became PlutoAgency
Pluto Agency, is our business name, pluto.agency is our website address, plutoagency is also how you can find us on Instagram, Pinterest, Snapchat and YouTube. How about Twitter? Well, up until yesterday our Twitter username (handle) was @plutolondon because @plutoagency was already taken.
This was far from ideal. Not only was there no consistency across the social network (another key factor that helps customers find you when they need to) we had a geographic issue as well. Since we established our account we've opened an office in Miami. We've even lost a potential US client because they thought our social media was too "London centric." Now you see how such a small thing as a Twitter name can have a massive impact on your business. Luckily we've since found a solution.
While doing a routine update of our social media accounts, we headed over to @plutoagency to see how the account was doing, only to find out that it had only tweeted once, more than a year ago. Further, they had 2 followers and were only following 1 person.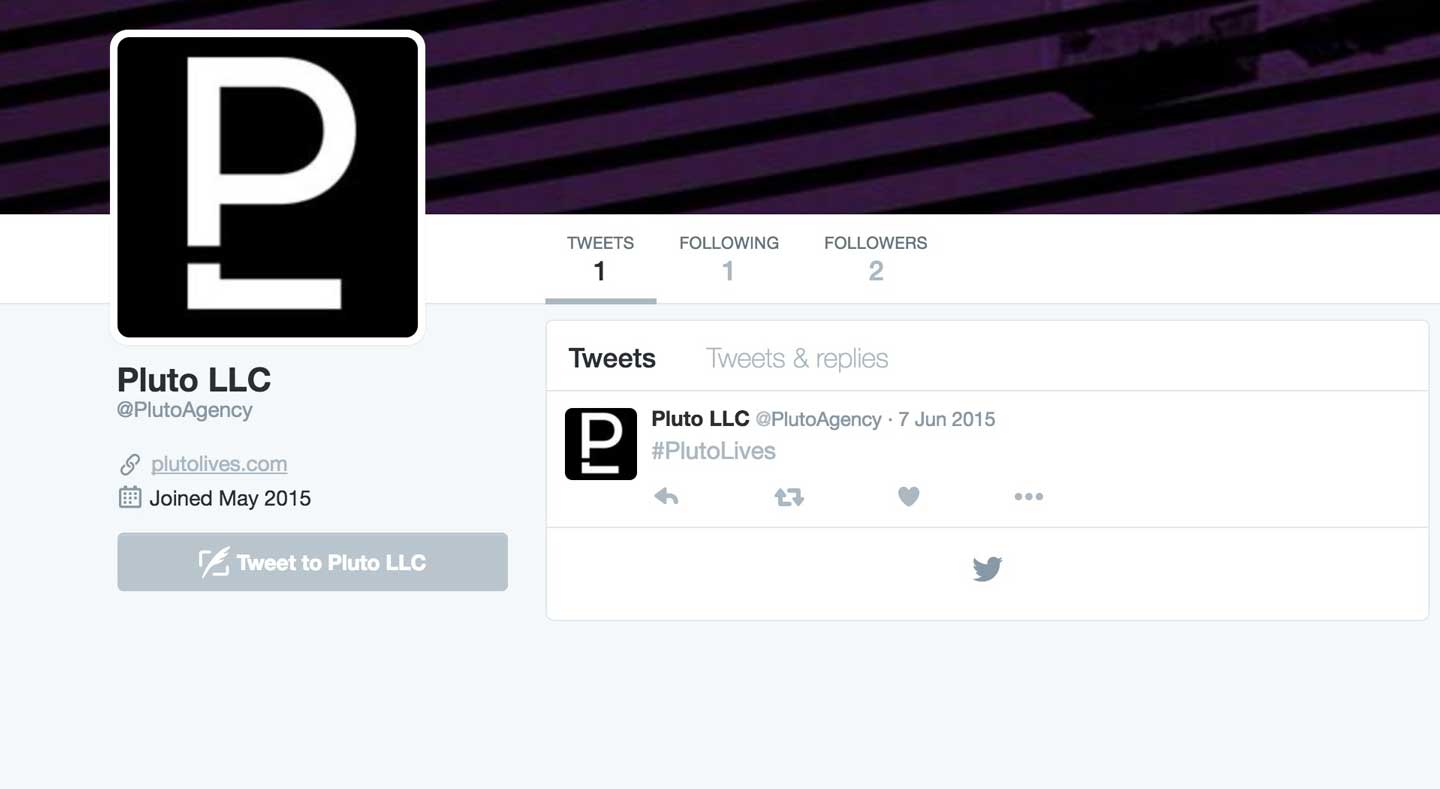 Now that's just unfair...our perfect Twitter handle was sitting there doing nothing, while we had to march around with @plutolondon.
So we decided to do something about it, and after a quick search online, we found success stories about people actually getting the Twitter handle they wanted even if it was already taken. So the take-over of the @plutoagency handle begun.
3 steps to claim your company name from a dormant twitter account
Step 1. Ask THEM nicely and wait 24 hours
We went over to their website, found the email address and sent them an email politely asking for their Twitter handle, since they weren't actually using it. I then sent the same email to the email address listed in the whois details for their domain and finally sent a direct message via Twitter. There was no reply whatsoever.
Step 2. Tell Twitter
Twitter has a special form designed for reporting users who impersonate other people or brands. We were hesitant to fill in the form since they weren't actually impersonating us. Their business name, even if they were not an agency, they had the word Pluto in it ... but what the hell, we went for it, thinking the worst that can happen is that Twitter would say no.
So we filled in the form as below, which you can find here: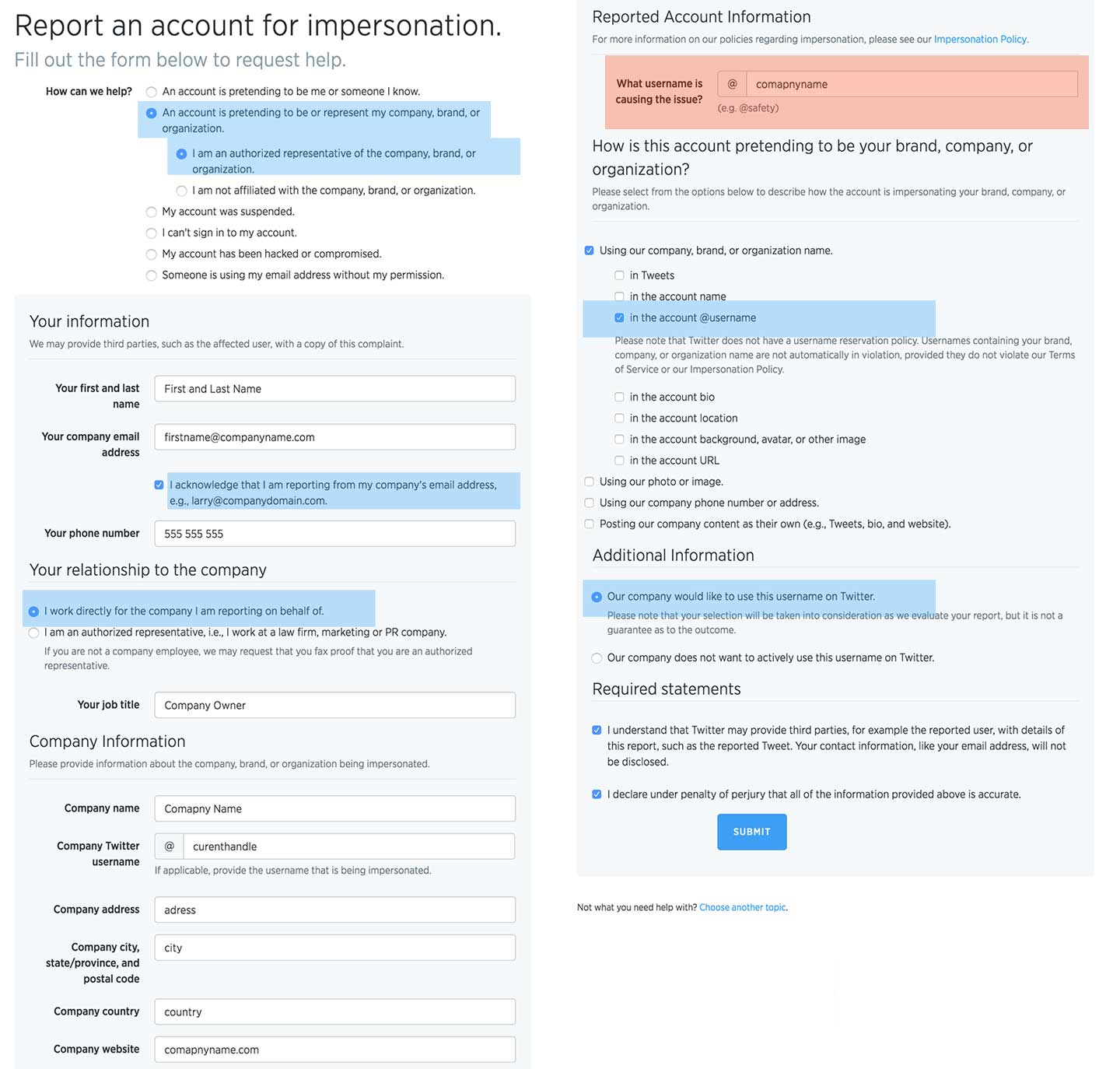 Step 3. Respond to Twitter
Once you fill in the form twitter will send you an email similar to this one: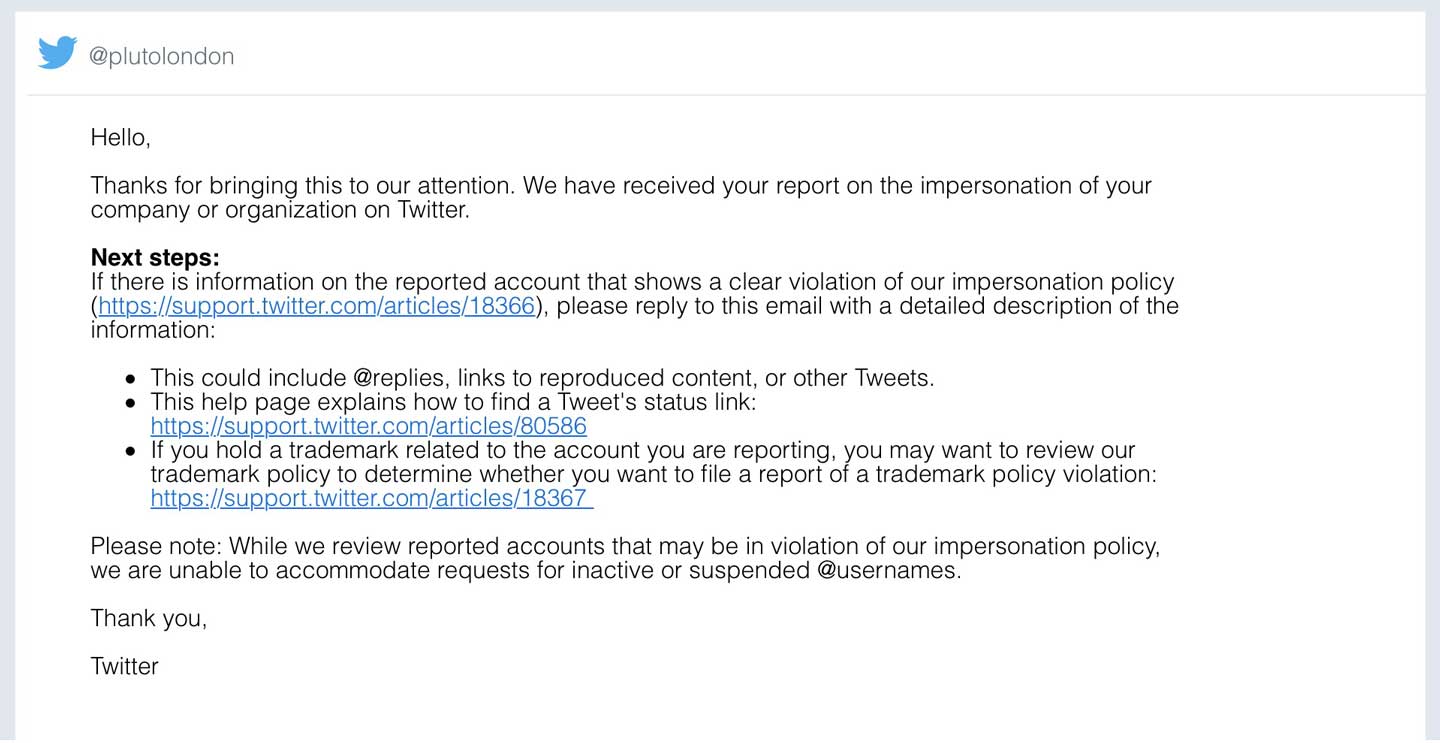 In our case the reply went like this:
This person has a dormant Twitter account that has just 1 tweet posted 1 year and 4 months ago and is simply 'squatting' on the Twitter account name.
Our company is called Pluto Agency, our domain name is pluto.agency, all our emails end with pluto.agency, Instagram handle is again @plutoagency and also the Pinterest and Snapchat usernames are plutoagency.
The @ handle plutoagency is more suited for our company then for plutolives that looks more like a freelancer than an actual agency.
To which Twitter replied:
The account you have reported does not violate our impersonation policy, but it is currently inactive. We can release this username for your brand's use by transferring the username to a Twitter account that you manage. We can either rename an account you currently have or transfer the username to a new placeholder account that you create.
So now, we're @plutoagency just like our domain name, Instagram, Pinterest and company name.
If your handle is taken by someone that's doing nothing with it this is "Twitter squatting". They may not be impersonating you as such, but they're certainly taking up valuable social media real estate. You can use the steps above. If you succeed let us know in the comments or tweet @plutoagency. Good luck!
So now that you have your desired Twitter handle you better make the best use of it.
Next: Check out our article on tweeter direct messages or find out How to Monitor Social Media in 10 Minutes a Day with the below ebook.